This page will guide you through the process of the configuration of your Mesh Wi-Fi bundle.
How do I configure my FRITZ!Box
Start by setting up your FRITZ!Box 7530. Check out our guides on how to configure the device if you have a DSL or fiber connection.
By default, the FRITZ!Box works as a Mesh Master, which means that it will be transferring Wi-FI signal, together with your wireless settings (for example account information, guest access, schedule), to the other FRITZ! products in the home network, which, at their turn, will be acting as Mesh nodes.
How do I activate my FRITZ!WLAN Repeater
Mesh WiFi can be activated quickly and easily at the touch of a button.
Briefly press the button on the FRITZ!WLAN Repeater until the LED starts to flash.
After about two minutes, briefly press

Connect/WPS

button on your FRITZ!Box.
You can check if your repeater has been successfully integrated in the Mesh network using the FRITZ!Box web interface.
Click on Home Networking in the left menu and select Mesh Networking in a drop-down list. You will see a Mesh network graphic and the list of connected devices. FRITZ! products that are activated for Mesh are designated with the icon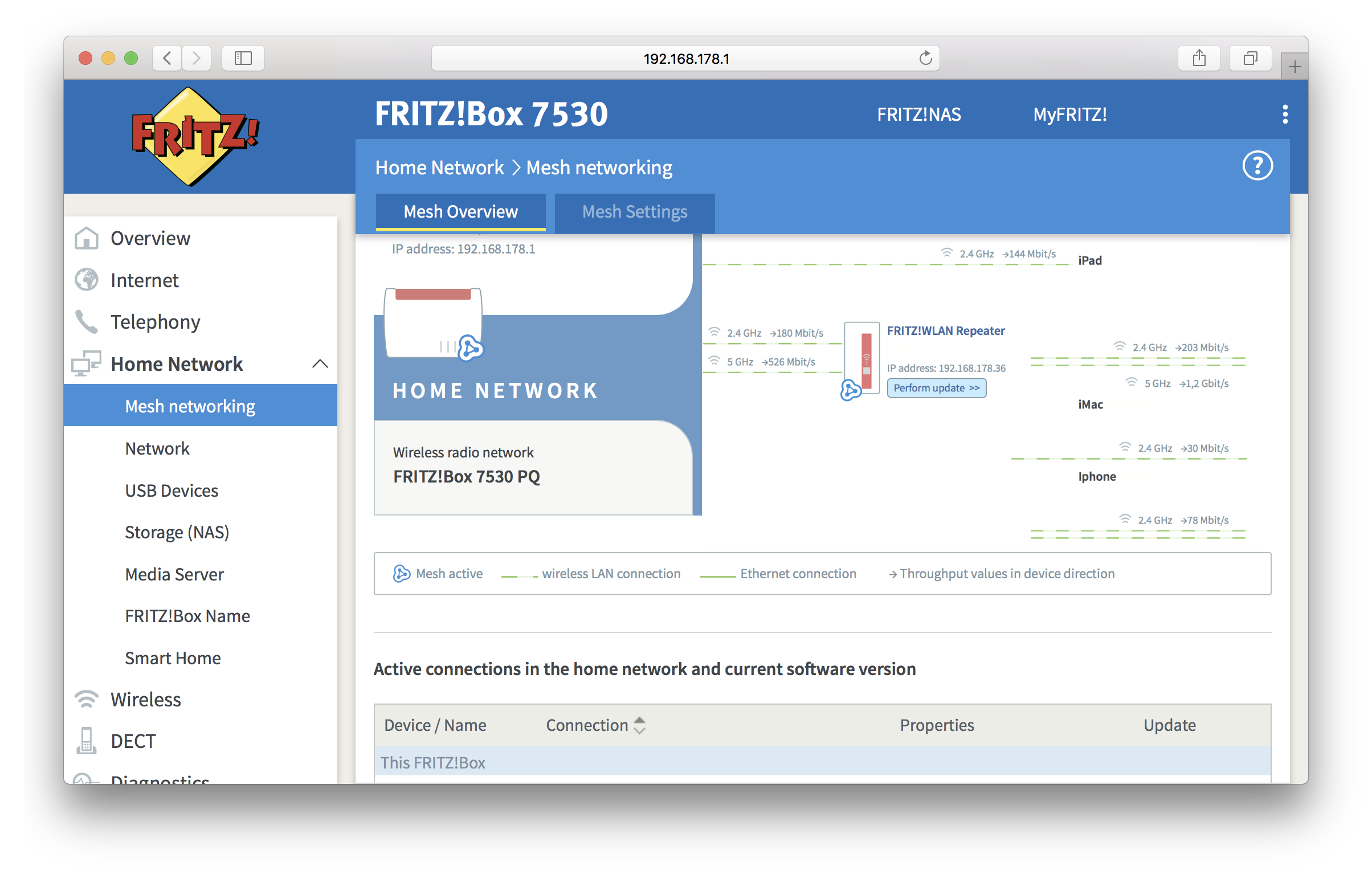 FAQs
No, only FRITZ!OS higher than 7.01 support Mesh.
Yes, you can integrate this FRITZ!Box into the Mesh of your FRITZ!Box with internet access (Mesh Master), it will be functioning as a Mesh Repeater.
The Mesh Repeater automatically adopts all of the wireless settings from the Mesh Master and creates an additional wireless network (WiFi) that enables your devices to connect to the home network. In addition, the telephone numbers entered in the Mesh Master can be activated for the Mesh Repeater and used by telephone devices configured in it.
Use wireless LAN or a network cable to connect a computer to the Mesh Repeater. If the computer is already connected to the Mesh Master, clear this connection.
Click on

Home Networking

in the left menu and select

Mesh Networking

in a drop-down list. Hit

Mesh Settings

tab.
Enable the options

Mesh Repeater

and

This FRITZ!Box is a network device (IP client) in the home network [...]

in the

Mesh Operating Mode

section.

If you would like to connect your FRITZ!Box via Wi-Fi, you will need to select the wireless network and enter the Mesh Master's network key in the

Network key

field. Click on

Apply

when done. If you're connecting your device via cable, just select the option

via LAN

and click on

Apply

.

Push and hold

Connect/WPS

button on the Mesh Master until its WLAN LED flashes
Within 2 minutes, push and hold the connect button on the Mesh Repeater until its confirmation LED lights up.
The process is successfully completed if the Mesh Repeater is marked with the symbol in the Mesh or home network overview of the Mesh Master.
Last updated on Mar 27, 2019 | Tags: