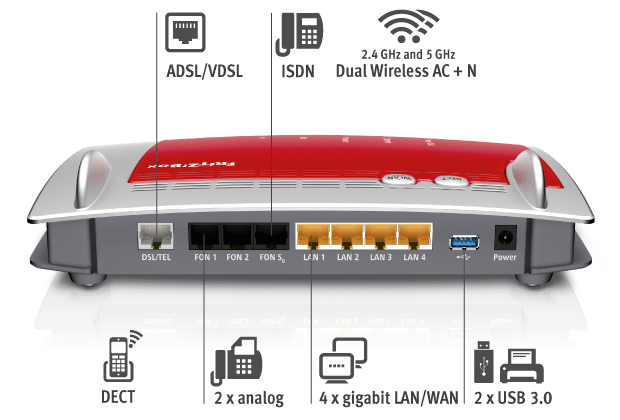 What LED indicators are
Power/DSL
Green solid
FRITZ!Box has electrical power and the DSL line is ready for operation
Green flashing
Device has electrical power and the connection to DSL is being established or has been interrupted
Internet

Green solid

Internet connection is active

Green flashing

Messages in your voice mail or e-mail inbox

Fixed line
Green solid
Telephone connection to the Internet is ready
Green flashing
Messages in your voice mail or e-mail inbox
WLAN​
Green solid
Wireless LAN is enabled
Green flashing
• Switching wireless LAN function on or off

• Applying changes to the wireless LAN settings

• Performing WPS

• WPS procedure aborted: more than two wireless devices are performing WPS at the same time.
Repeat the WPS procedure
INFO
Green solid
There is an event in the user interface under System / Buttons & LEDs / Info Display
Green flashing
• Updating FRITZ!OS

• There is an event in the user interface under

System / Buttons & LEDs / Info Display

Red flashing
Open the user interface and follow the instructions under Overview
Automatic configuration
Modem configuration has become much easier! You don't have to fill in the line details and logins anymore. Simply by choosing edpnet as your provider your modem will synchronize with our autoconfiguration server and connect to the Internet!
Step 1

—

Opening the web interface

Open your web browser (Internet Explorer, Firefox,…) and go to http://fritz.box.
Step 2

—

Language choice

Now you see the wizard for the first basic configuration. Select English or another language if preferred.
Click on Next to continue.
Step 3

—

Regional setting

The language of the web interface has now changed to the language of your choice; in our case to English.
Next you see the screen to choose the regional setting.
In the combo box you select Belgium and click on Apply.
Step 4 — Selecting the annex
In order to make a successful connection to the edpnet network, your device needs to be put into the correct Annex setting.
The Annex-setting depends on the type of your connection.
ADSL (PTSN)
ADSL (Raw Copper)
ADSL (ISDN)
VDSL
Annex A
Annex B

Choose the corresponding Annex setting and press Next.
Step 5

—

Reboot

The Fritz!Box will now automatically reboot and after about 1 minute you will see the Welcome screen.
Step 6

—

Set the Administrator password

First you are asked to assign a password. Assigning a password will protect your settings and avoid unwanted access to your Fritz!Box.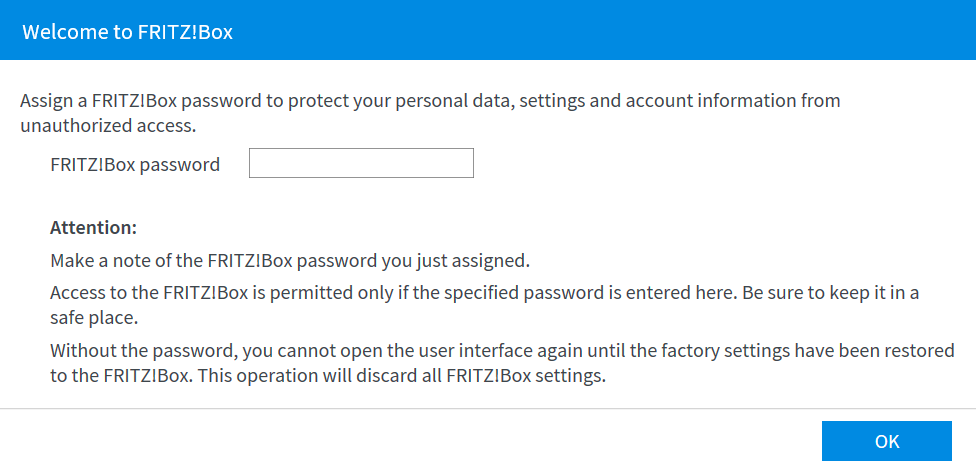 Step 7

—

Welcome screen

The next screen is the Welcome screen, where you can start the wizard to set up your internet connection. Click on Next.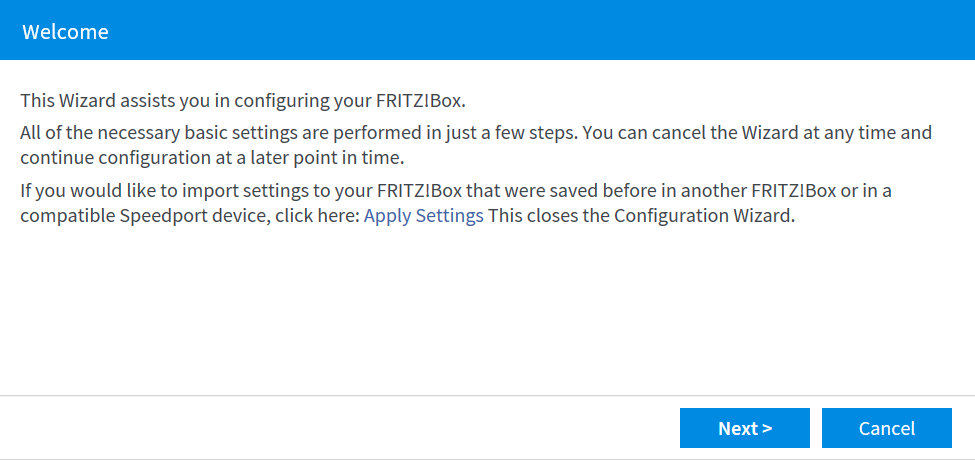 Step 8

— Choosing your ISP

In the wizard you need to choose your ISP (=Internet Service Provider). Select EDPNET in the drop-down list and press Next.
Step 9

— Confirm the settings

Here you need to confirm the settings.
When you choose EDPNET as your ISP, all the settings have been filled in automatically for your connection. Press Next.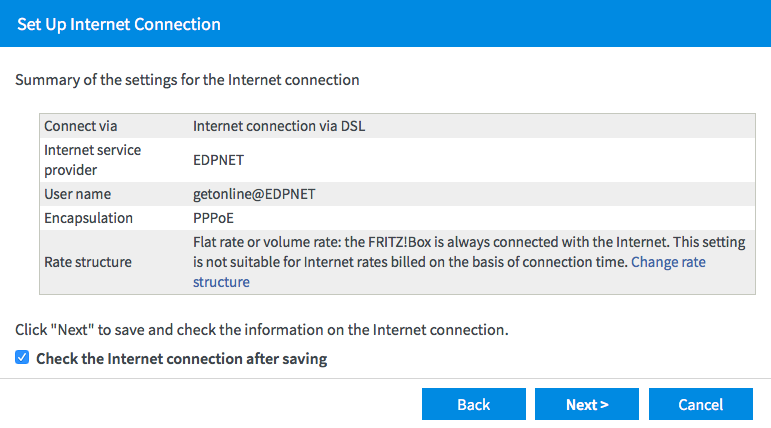 Step 10 — Checking Internet connection
Your device will now try to connect.
If there is a green line, it means the configuration has been finished successfully. Press Next.
In there is a red line, check if your modem/router is still connected to the DSL-line and if it gained synchronization (the Power LED is on and not blinking).
If you are not sure if your device is receiving a DSL signal, please, contact our customer service.
Step 11 — Telephony Setup
You can skip this step if you do not use VoIP-telephony or if you are using edpnet telephony. Everything will be configured automatically.
NOTE. If you want to set up more than 3 numbers, they will not be configured automatically. You can follow the steps in the manual configuration part of this guide.
Manual configuration
These steps can be followed if your internet connection is still not working after you followed the above-mentioned steps of automatic configuration. This part of the guide continues the steps of automatic configuration.
Internet connection
Step 12 — Online monitor
Click on Internet in the menu on the left and go to Online Monitor. In the window of Online Monitor you can check the status of your internet connection (If there is a DSL signal on your line, you will see a green LED next to DSL under Interfaces.)
Click on Account Information in the menu on the left.
Step 13 — Account Information
Choose EDPNET in the drop-down list of Internet Service Provider. The only thing you have to fill in at this step is your connection logins (username and password) which you received from edpnet. Then press Apply.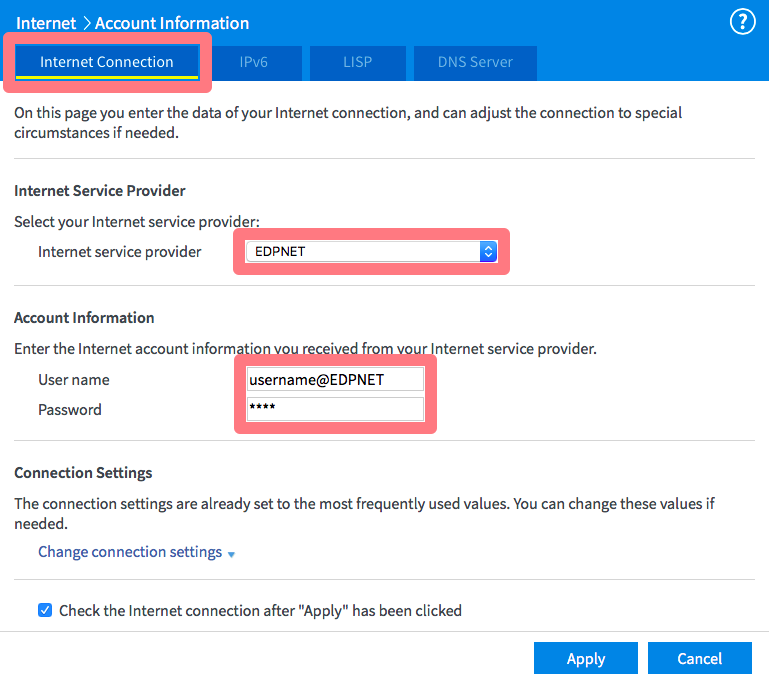 If the credentials have been filled in correctly, the Internet LED will become green on the Overview screen.
It means your device is connected to the Internet!

VoIP configuration
Via these steps you can configure your edpnet telephony.
Step 14 — Telephony Menu
To set up your phone numbers, go to Telephony in the left menu of the main screen (Overview).
Click on Telephone Numbers in the left menu.
Step 15 — Telephone numbers
In the first tab (Telephone Numbers) you can set up a new telephone number by pressing New telephone number.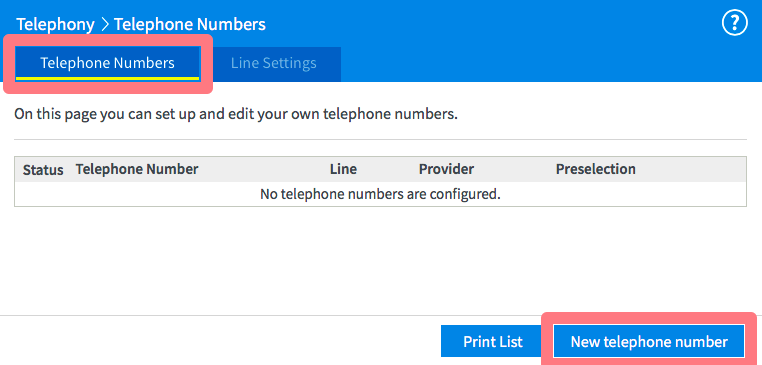 Step 16 — Internet telephony setup
Fill in all VoIP-settings for your phone number in the next window.
Choose Other provider under Telephony provider.
Internet telephone number: your phone number (e.g. 032656700)
Internal telephone number: your phone number


Scroll down a bit and enter your VoIP credentials.
Username: your phone number (e.g. 032656700)
Password: your VoIP-password
Registrar: voip.edpnet.be


Other settings may remain unchanged. Press Next.
Step 17 — Save settings and check telephony
Verify if all the settings are filled in correctly.
Press Back if you want to change anything.
Press Next if the settings seem correct.
Your settings will be checked now. If the configuration is successful, press Next.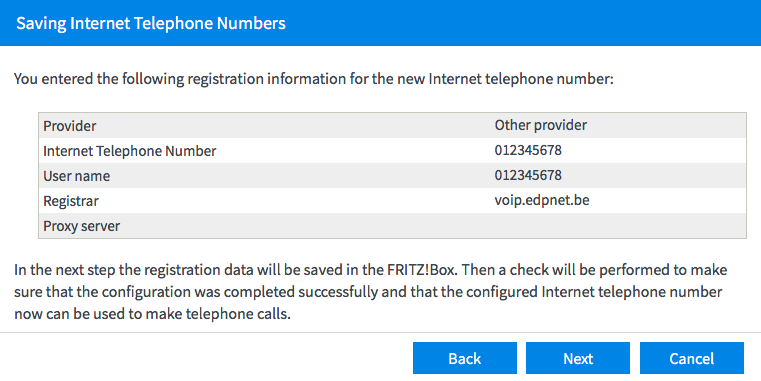 If the configuration has been finished successfully, the Status LED next to your phone number will become green.

Complete manual (PDF)

Download here the full manual of the Fritz!Box Fon WLAN 7490 (PDF)

Last updated on Jun 01, 2018 | Tags: