What will be mentioned on my first invoice
1. Address info
Your billing address.
2. Invoice details
Your customer number, invoice number and invoice date.
We send your invoice every 1st day of the month.
3. Payment details
Amount to be paid: the amount that you still have to pay (including VAT)..
Amount paid: if you ordered a modem, you have already paid it when ordering (including VAT).
Due date of your invoice..
4. Payment information
Here you will find your payment reference and a link to pay online immediately.
If you pay your invoice by direct debit, there will be a different message in the payment information:
The amounts of all parts (subscription costs, possible options, one-time costs and hardware / modem) of your invoice are always VAT excluded.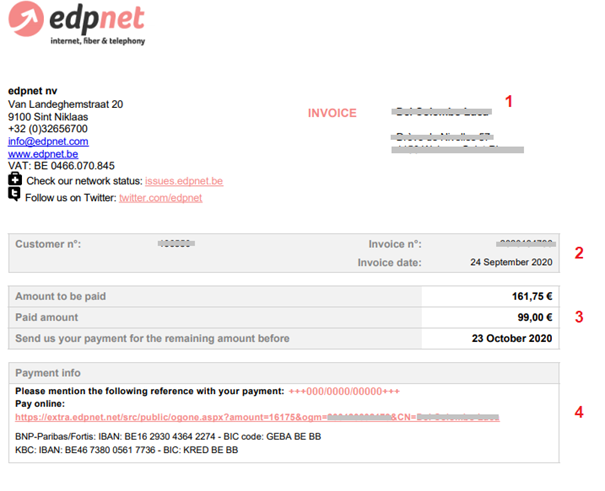 5. Subscription fee
We mention the type of subscription along with your installation address and your Easy Switch number. You can use this number if you decide to switch to another provider. With this number your new provider can cancel the edpnet subscription at your request.
Underneath you will find the billing period. You always pay for your edpnet subscription before a new month / period starts.
Note: For your first invoice it is very important to know that 2 periods are stated:
1st period: from the day of your activation until the 1st day of the following month. In this example, the subscription was activated on September 22, but this can happen on any day of the current month. We therefore invoice the remaining days of the current month.
2nd period: the following month
Your next invoices always show 1 period, namely the following month, which you always pay in advance.
You can also find the start and end date of your min. Contract duration (6 months) in the "Subscription costs" table.
We also mention possible subscription options which you ordered in this table.
6: One-time fee
You pay a one-time activation fee for your subscription. If you opted for a telecom installation or a worry-free installation, the amount can be found in this table.
7: Hardware
The modem you ordered.
8: Invoice amounts, excluding and including VATW
In the table "Total" we give you an overview of the total amount of your invoice, VAT excluded. Below the total amount, you can find the VAT amount and finally the total amount, VAT included.
If you already paid an amount in advance, we will state this again in this table, VAT included.