Is it possible that extra (welding) work is needed to activate my edpnet subscription
Sometimes edpnet is informed by Proximus that an SNA (Small Network Adaptation) is required before it's possible to activate the edpnet internet subscription. Edpnet receives this notification when there is no available copper pair for your address/location/building. There may be several causes for this: all available copper pairs are in use for other services or the current available copper pair does not offer the sufficient/required quality to deliver your connection. Proximus, being the owner of the national copper pairs network, will perform these SNA works.
Proximus has to weld an extra copper pair which will be connected to the entry point of your address/location/building. An SNA procedure requires most of the time two interventions. During the first intervention, a Proximus technician will assess the current situation. During a second intervention, a special welders team will perform the actual SNA works.
An SNA automatically results in longer delivery timers. It's not always noticeable in advance if SNA works are required for your order. Sometimes the necessity of these works becomes only visible when a technician is onsite to execute your initial Telecom (Test&Label) installation
Pay attention, SNA works are not always "visible" to you as a customer. Sometimes these works are performed at the street level or even further at the street cabinet which you are connected to.
If digging is needed on public domain to perform SNA works, Proximus (or their subcontractor) will ask permits to the necessary instances.
If digging is needed on private domain (if you do not yet have a conduit) to perform SNA works, Proximus (or their subcontractor) will ask your permission (an edpnet will be informed as well).
Take a look at the scheme below to distinguish public from private domain: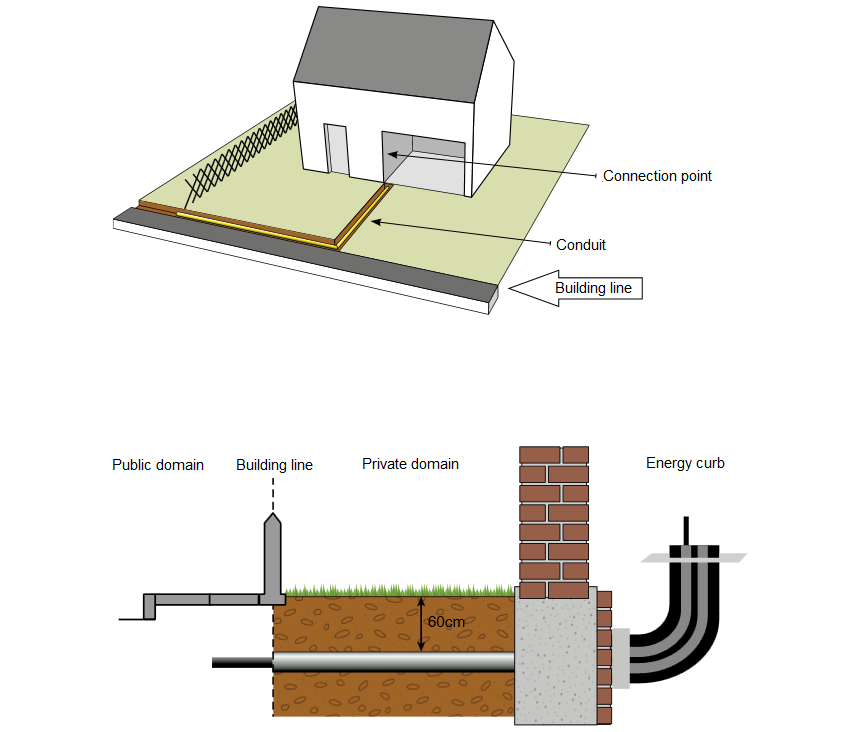 See also:
Which preparatory work needs to be foreseen for my internet connection when I'm building or renovating