How do I configure call forwarding on my FRITZ!Box
Call forwarding integrated in FRITZ!Box allows you to automatically divert all or selected calls to another line, a particular telephone, or an answering machine.
Note: You can also configure call forwarding (when you're on the phone, if you don't pick up within 20 seconds, or simply divert all calls) using forwarding codes. The forwardings set up this way are configured on our telephony server and continue to function even if for some reason, your connection goes down.
Open your web browser (Internet Explorer, Firefox,…) and go to the web interface of your FRITZ!Box. By default, it should be reachable on http://fritz.box or http://192.168.178.1. Log into the device if you are prompted to. Go to Telephony and click on Call Handling in a drop-down menu: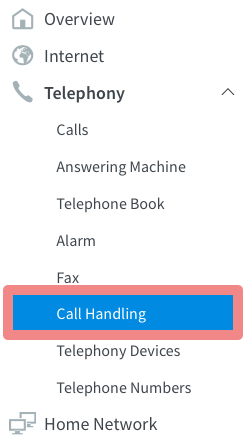 Hit Call Diversion tab and click on New Call Diversion: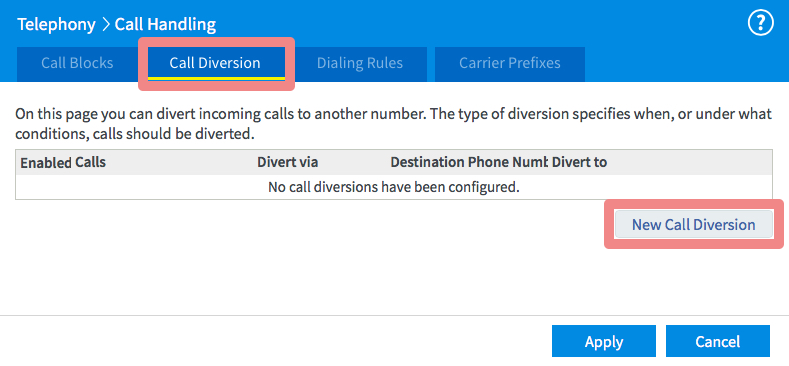 You will be asked to configure a new call forwarding rule: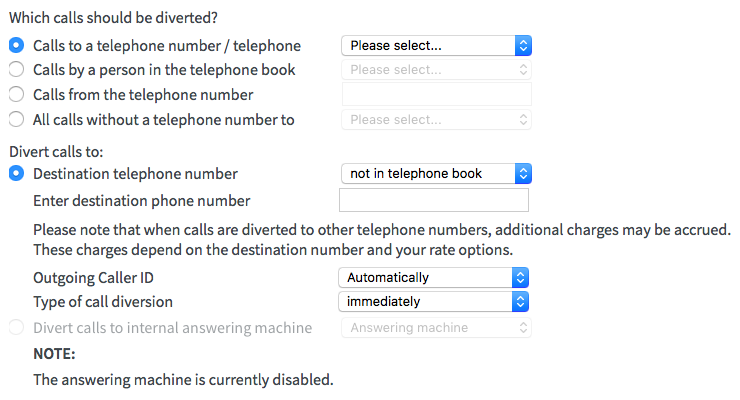 Select calls to be diverted:
Calls to a telephone number / telephone: if you would like to forward all calls arriving to a particular telephone number or telephone device
Calls by a person in the telephone book: if you would like to forward all calls from a particular person. You will need to select a telephone book entry
Calls from the telephone number: if you would like to forward all calls from a particular telephone number or number range. You will need to enter a telephone number or a range (for example, 0326567)
All calls without a telephone number to: if you would like to forward all anonymous calls
Select where the calls should be diverted to:
Enter destination phone number: if you would like to forward calls to an external telephone number, whether it's a landline or a mobile phone
Divert calls to internal answering machine: if you would like to forward calls to one of theFRITZ!Box's internal answering machines
Make sure you checked and, if needed, corrected the following settings:
Outgoing Caller ID: either select an outgoing caller ID (the number that will be displayed on the telephone, to which you're going to forward calls) or select Automatically
Type of call diversion: select one the following forwarding types:

Immediately:

i

ncoming calls are diverted immediately, your telephone does not ring
Delayed:

y

our telephone rings for an incoming call which will be diverted if you do not accept the call within 20 seconds
Long delay:

same as

Delayed, but the call is not diverted until after 40 seconds
When busy:

a

n incoming call is diverted only if your telephone number is currently busy
Parallel call:

i

n a parallel call, two telephones ring at the same time; the calls are signaled simultaneously on the telephone that was called, and on the line you entered as the Destination telephone number
A maximum of 32 call diversions can be set up for incoming calls.