You need only data?
Then choose one of our data-only plans
That's all you need to do your thing.
Want to be online
anytime, anywhere?
Then choose a fixed bundle of 1, 2, 5 or 10 GB per month.
No fixed wired internet? No problem. You're always online, wherever you are.
Plug your SIM card into your laptop, tablet or car, and you're off.
I want this
You only need data now and then?
Then our pay-per-use formula is an ideal match for you.
You pay €1 per month and €4 per GB that you use (billed per kB).
A lifesaver as a backup when your fixed internet goes down, or great for browsing on the occasional business trip.
I want this
Always online, all together?
Data sharing is your best choice!
You go online whenever you want, and you share the data bundle with your colleagues.
Sometimes you use more data, sometimes less, but you never pay too much.
I want this
5G is the future
With 5G, you surf at a higher speed and the response time is faster.
5G is already operational in large parts of Ghent, Hasselt, Leuven, Mechelen, Ostend and Antwerp, at no extra cost. The network is constantly expanding. Please check whether your device is compatible for surfing with 5G.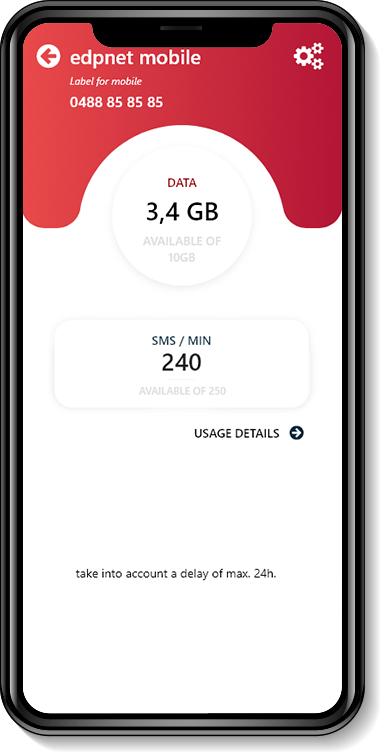 Download our convenient mobile app
manage all your subscriptions

check your usage

view and pay your invoices
Surf on an eco-friendly network
edpnet uses Orange's network. They have been working on green energy since 2009 and regularly invest in energy-efficient equipment.
Our edpnet SIM cards are eco-friendly and soon we will even offer e-SIMs without a physical SIM card.
If you go out of bundle?
With your data bundle you can surf anywhere in Belgium and in Europe (roaming zone 1).
If you go out of your fixed or shared bundle, you only pay €0,003 per extra MB.
Benefits of data only
Online everywhere, without a fixed internet
Pay-per-use: only pay for what you use
Data sharing: share your data pot among colleagues
Order easily online, we'll send your sim quickly by post
I want this
How satisfied are our customers?