FRITZ!DECT Repeater 100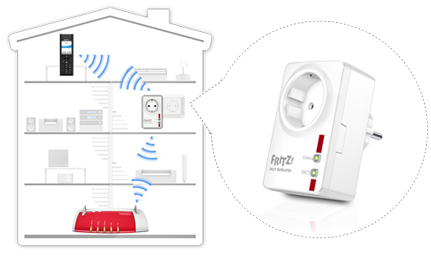 FRITZ!DECT Repeater 100 for €99 VAT incl. (€81,82 VAT excl)
Extend your DECT signal with this brand new FRITZ!DECT Repeater! Increase the range of your FRITZ!Box DECT signal at the push of a button. It is a perfect solution for your home (and garden) or your office. With this Repeater you can use your DECT telephones in every room. The FRITZ!DECT Repeater 100 supports all FRITZ!Fon functions; HD telephony, Internet radio, RSS, etc.The FRITZ!DECT Repeater gives you a stronger DECT signal and a better voice quality.
An overview of the functionalities:
Increases the range of your DECT telephone network, at home or in the office
Up to 3 simultaneous calls
Up to 6 FRITZ!DECT repeaters for 1 FRITZ!Box DECT base
Maximum DECT handsets per FRITZ!DECT Repeater 100 *
Compatible with all FRITZ!Box models with DECT-function (basic functionality with other GAP DECT base stations)
Easily connect with only one push of the DECT button on your FRITZ!Box
Anti-tapping: your calls are encrypted
Supports the FRITZ!Fon functions: Internet radio, RSS and HD telephony
Integrated power socket
Compact design: dimensions, 93 x 59 x 41 mm (H x B x D)
* Please notice that you can only start from the DECT base
In order to take full advantage of all functionalities of the Repeater, you will need the FRITZ!Box firmware 5.50 or higher.