FRITZ!WLAN Repeater 1200
The FRITZ!Repeater 1200 quickly and easily extends the wireless LAN range of your home network. Despite its compact design, it has two radio units. Thanks to Mesh WiFi, all of your devices are conveniently integrated via the 5-GHz and 2.4-GHz bands. In addition, the FRITZ 1200 repeater has a gigabit LAN port.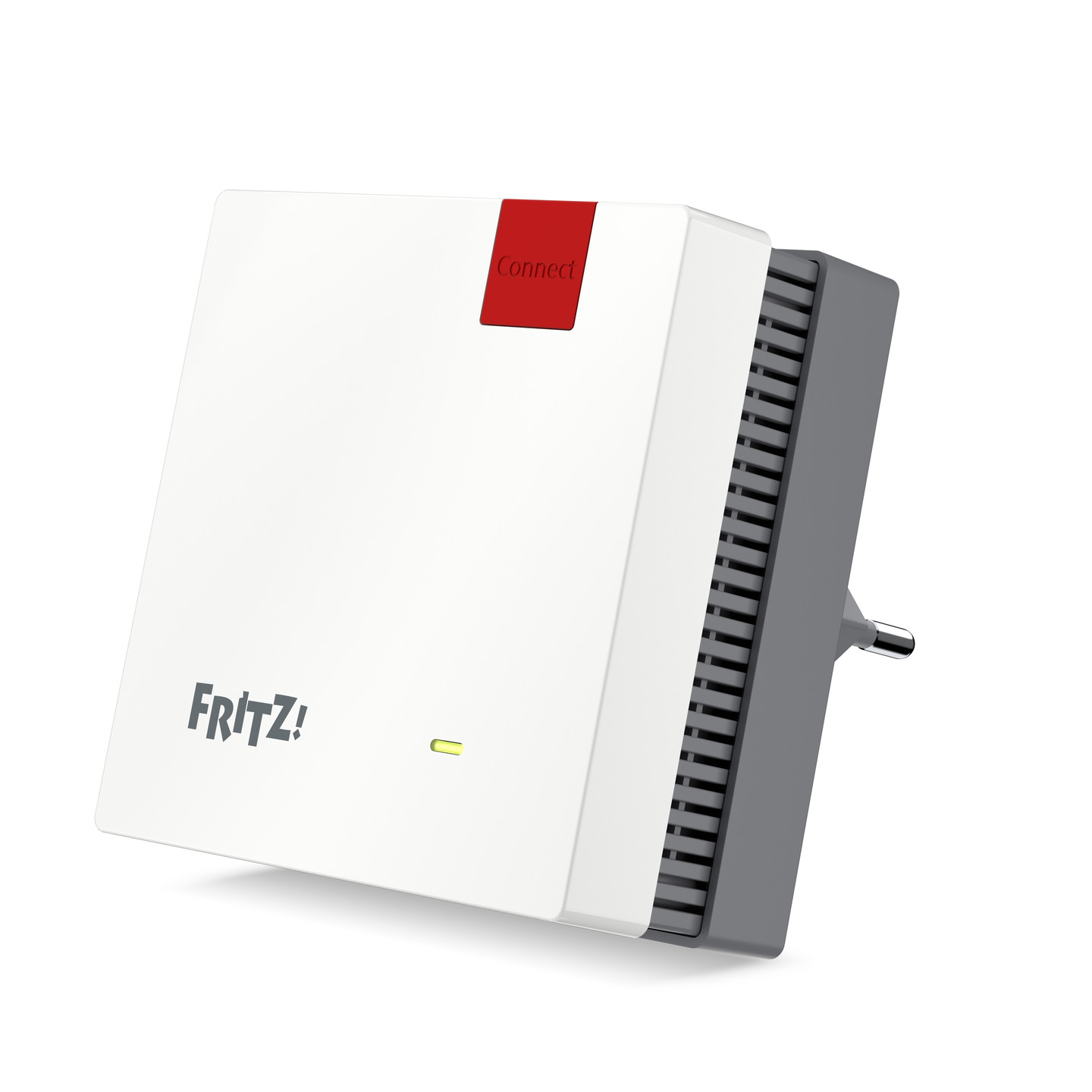 Features
Wireless AC with up to 866 Mbit/s in the 5-GHz band
Wireless N with up to 400 Mbit/s in the 2.4-GHz band
Compatible with all wireless routers compliant with the 802.11 ac/n/g/b/a wireless standards
Adopts the configured encryption of the wireless network (WPA2)
Guarantees maximum WLAN security: encryption in accordance with WPA1, WPA, WEP-128 and WEP-64
Adapter for anchoring in a wall socket.
IPv6 support
WPS
The FRITZ!Repeater 1200 supports uncomplicated, automatic registration using the WiFi Protected Setup (WPS) standard. Configuration is completed with the touch of a button: Repeaters and WPS-enabled routers, such as the FRITZ!Box, connect automatically.
Mesh WiFi
The FRITZ!Repeater 1200 supports Mesh WiFi. Rather than having one router serving up Wi-Fi to your apartment or house, you have a mesh network of devices, blanketing every corner of every room in fast and stable wireless internet connectivity. Learn more about Mesh WiFi.
Gigabit LAN port
FRITZ!Repeater 1200 can integrate network-enabled devices that don't have wireless functionality into the home network. The FRITZ!Repeater 1200 does this by using radio signals to bridge the distance to the router, something that used to require laying extra cables.
Properties
Dimensions (W x H x D): approx. 80 x 80 x 37 mm
Weight: approx. 160 g