How to create and manage a ticket if you are edpnet technical partner
How to create a ticket
In order to access our ticketing system, you should go to myedpnet. Once logged in, you will see the main page: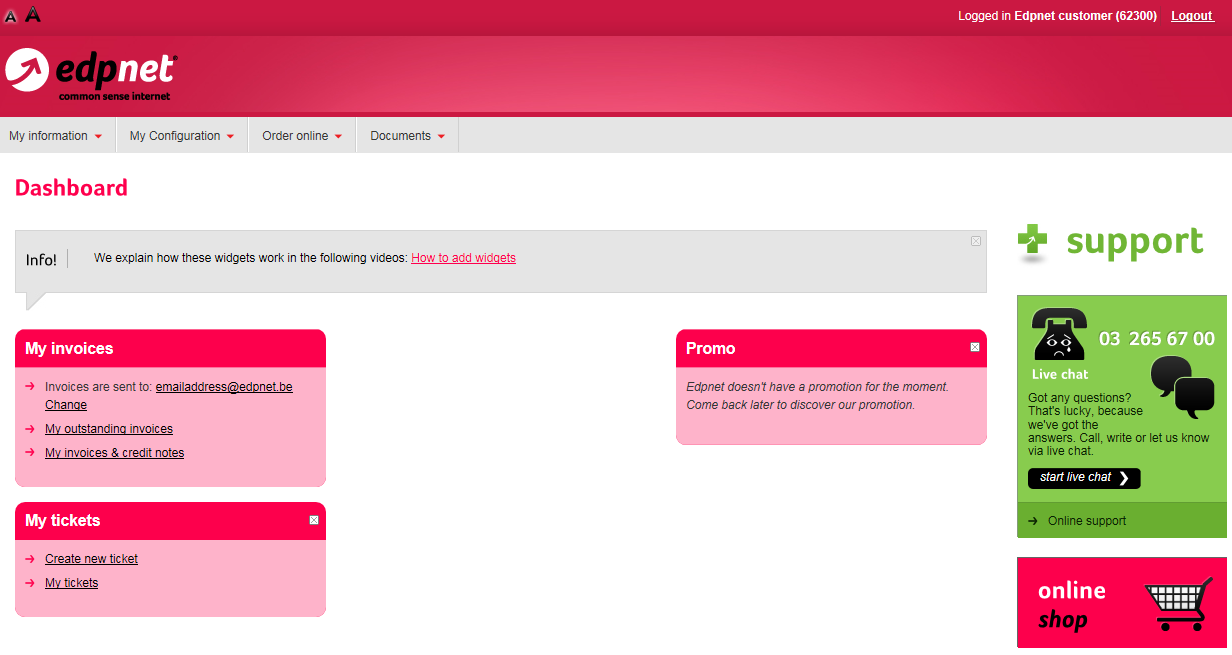 You can open a ticket using a widget on the main page, but we encourage you to create it the way all the data will be automatically linked and our support team won't have to identify the line. In order to do, please click on My Configuration on top left and click on My building blocks: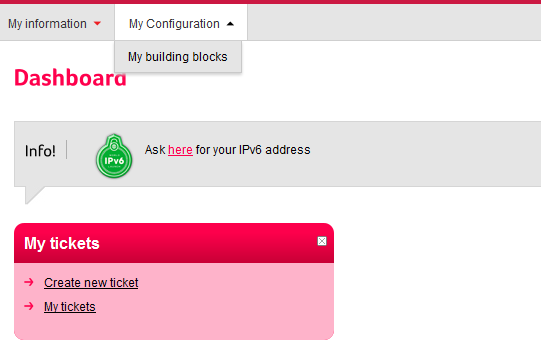 You will then reach a page where you can use dropdown menu to select the customer you would like to open a case for. Once selected, you should click on Search:

You will see all building blocks available for selected line. In order to properly open a ticket, you need to click on Create a ticket pictogram on the right of the screen corresponding to the product your request is dedicated to (the most likely, xDSL line):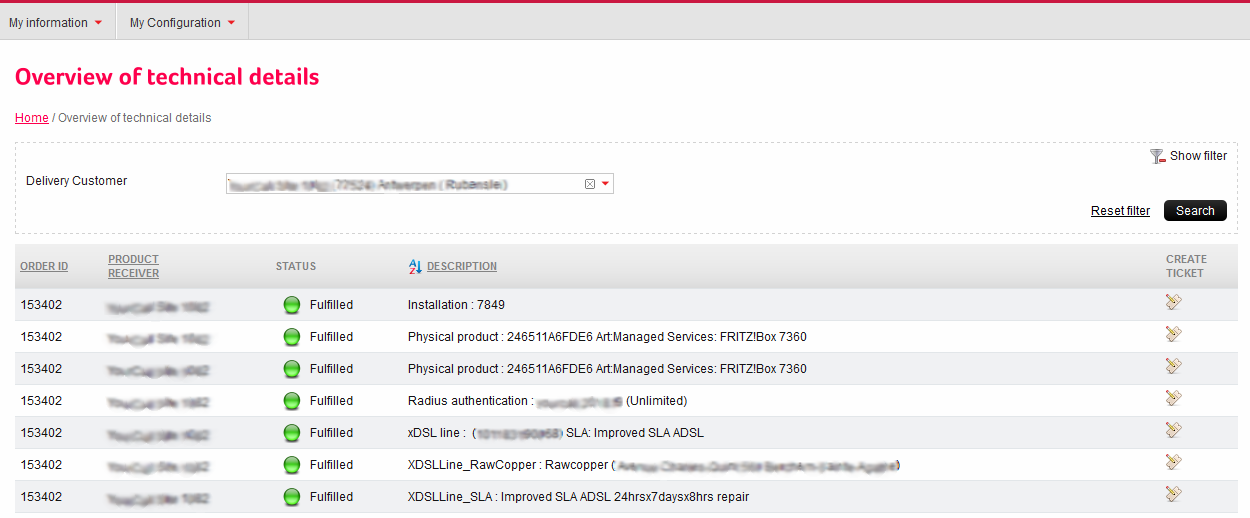 A new page will be opened. You can see that the email address is automatically filled in with the one set as a contact address for your account. Feel free to change it if needed, but please keep in mind that, unless you indicate otherwise in the ticket, our feedback will be sent only to one mailbox. Now you need to choose the department the case will be handled by: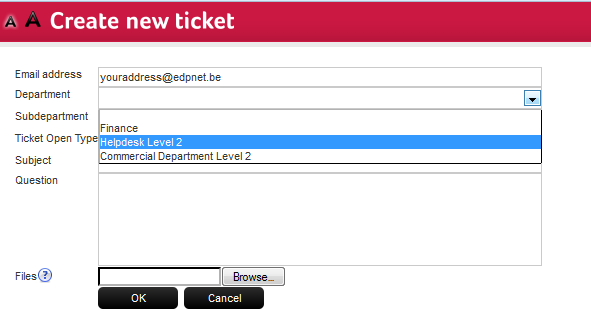 Then you select a subdepartment, in order to specify a little more what is your question or problem about: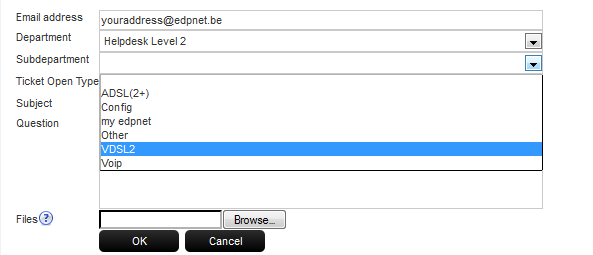 You also have to choose the nature of your question as close as possible in Ticket Open type.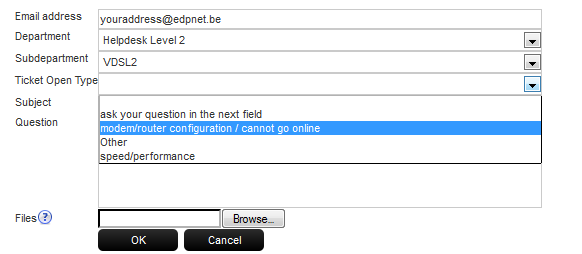 Please fill in a short description in Subject and describe your request in as much detail as possible in the field Question. In case of technical issue, it would be useful to precise timestamps, errors, server addresses, measured results etc. You can illustrate your question by attaching a file to your ticket (e.g. screenshot or textfile). To attach a file, click Browse and select the file you wish to attach, followed by clicking on OK.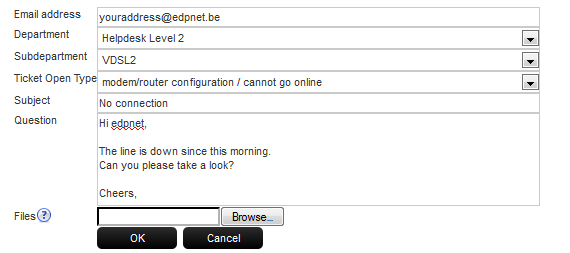 Once it has been done, you will see a confirmation that the ticket has been created. You will be provided with the unique ticket number you will be able to use as a reference for any further communication with regard to the request (for example, when contacting our support by telephone). The concerned department will immediately see your newly created ticket and will get back to you in the shortest possible delay—the answer should be sent to the email address you have specified upon filling in the form.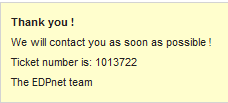 How to update a ticket
If you come back to the ticket overview, you will see the ticket you have just created. In order to consult it, just click on its number on the left of the screen:

You will then see some general details of the ticket as well as every single update you or our support team have added. As you can see, your additions to the ticket are marked with light pink color: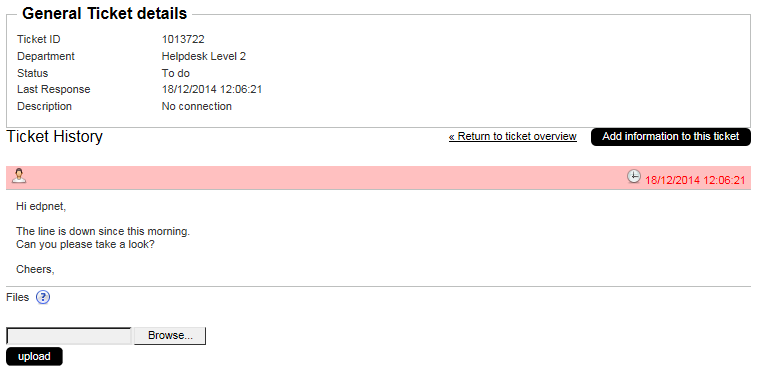 In case the ticket has been already handled, you will see a contribution made by edpnet team, always marked with blue color: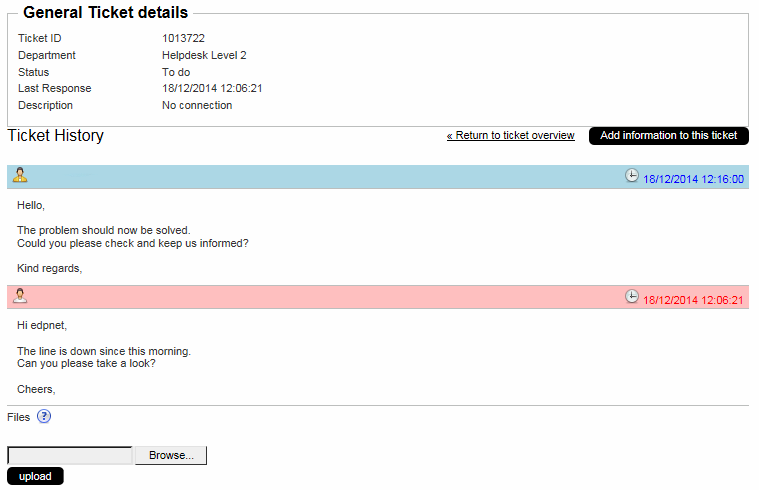 If you would like to add additional information to the ticket, you can do this by simply pressing Add information to this ticket button on the right. You can also add new attachments to the ticket. After completing the addition, the ticket has again been given the To do status, and will again be picked up by our support team.

Tracking progress of a ticket
Since you are informed of any update of your tickets by mail, there is no need to manually track them, but in case you need to review one or another, it can be easily done via ticket overview page. You can use the filter (unfoldable by clicking on Show filter on the right) to do a search based on ticket number (ticket ID) or its status.

To see all tickets, independently on the status they currently have, you need to select the blank option in the dropdown menu (in blue below), and then click on search. Please don't forget to reset the filter when changing search criteria.

Posted on Dec 19, 2014 | Tags: