How do I enable previous DSL driver on my FRITZ!Box
All FRITZ!Box modem/routers offered by edpnet are certified for use for the national VDSL network in Belgium. However, in addition to the device itself, the firmware version also needs to be whitelisted.
Not every new FRITZ!OS gets whitelisted by Proximus. When upgrading your device to a new firmware version that is not officially certified (see the full list of whitelisted versions), you need to enable a so-called previous DSL driver included in FRITZ!OS in order to benefit from the full speeds. If this option is not enabled, the line will be reconfigured with a fallback profile of 7,5 Mbps in downstream.
This page provides instructions on how to enable the previous DSL driver and recover your line from a fallback profile, if it has already been applied.
Please consult with your support before applying this option. They may be a different reason why your line is set to a fallback profile.
Open your web browser (Internet Explorer, Firefox,…) and go to the web interface of your FRITZ!Box. By default, it should be reachable on http://fritz.box or http://192.168.178.1. Log into the device if you are prompted to.
Go to

Internet

on the left menu and click on

DSL Information

in a drop-down list.
Then hit

Line Settings

tab. Click on

Interference Resistance

, tick

Use previous DSL version

and click on

Apply

. The FRITZ!Box will reboot.

Make sure that the

advanced mode

is enabled on your FRITZ!Box. As long as the device is in standard mode, you won't be able to see an extra tab with DSL line settings.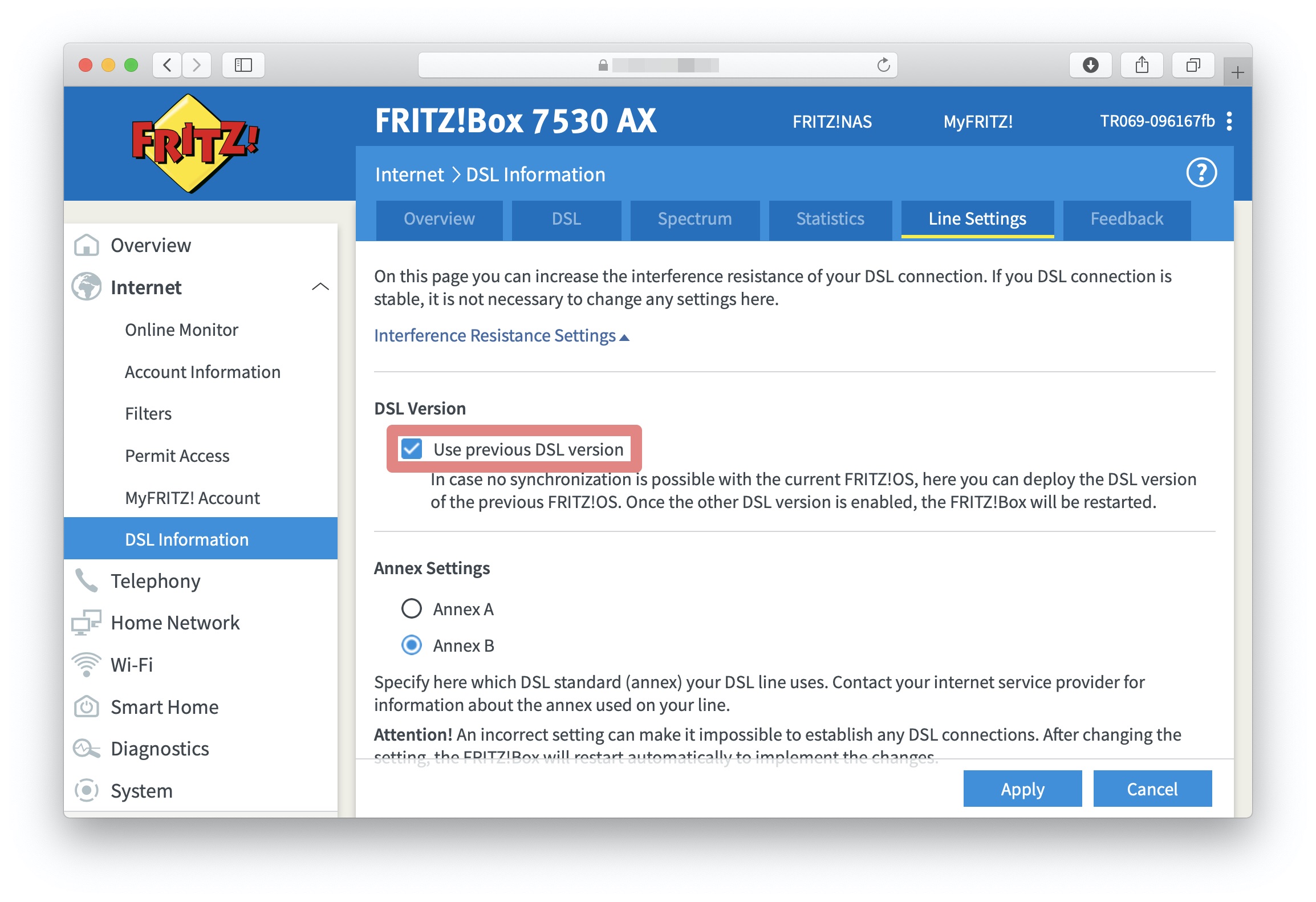 If your line has already been set to a fallback profile of 7 Mbps, please reach out to our support. We will launch TBF in order to re-apply the correct profile.
See also:
Which modems can I use