How do I reset my FRITZ!Box to factory settings
A factory reset erases the information and settings on your FRITZ!Box. In order to load factory settings, you can either use the user interface or an analog telephone connected to your device.
Before you start, make sure that you noted down all information that you may need to re-enter after restoring the device to factory settings (Wi-Fi network key, port forwarding etc). You can also
save all settings of your FRITZ!Box to a backup file
and import all or some of them back when a reset is done.
Open your web browser (Chrome, Firefox,…) and go to the user interface of your FRITZ!Box. By default, it should be reachable on http://fritz.box or http://192.168.178.1.
Go to System on the left menu and select Backup in a drop-down list. Hit Factory Settings tab and click on Load Factory Settings.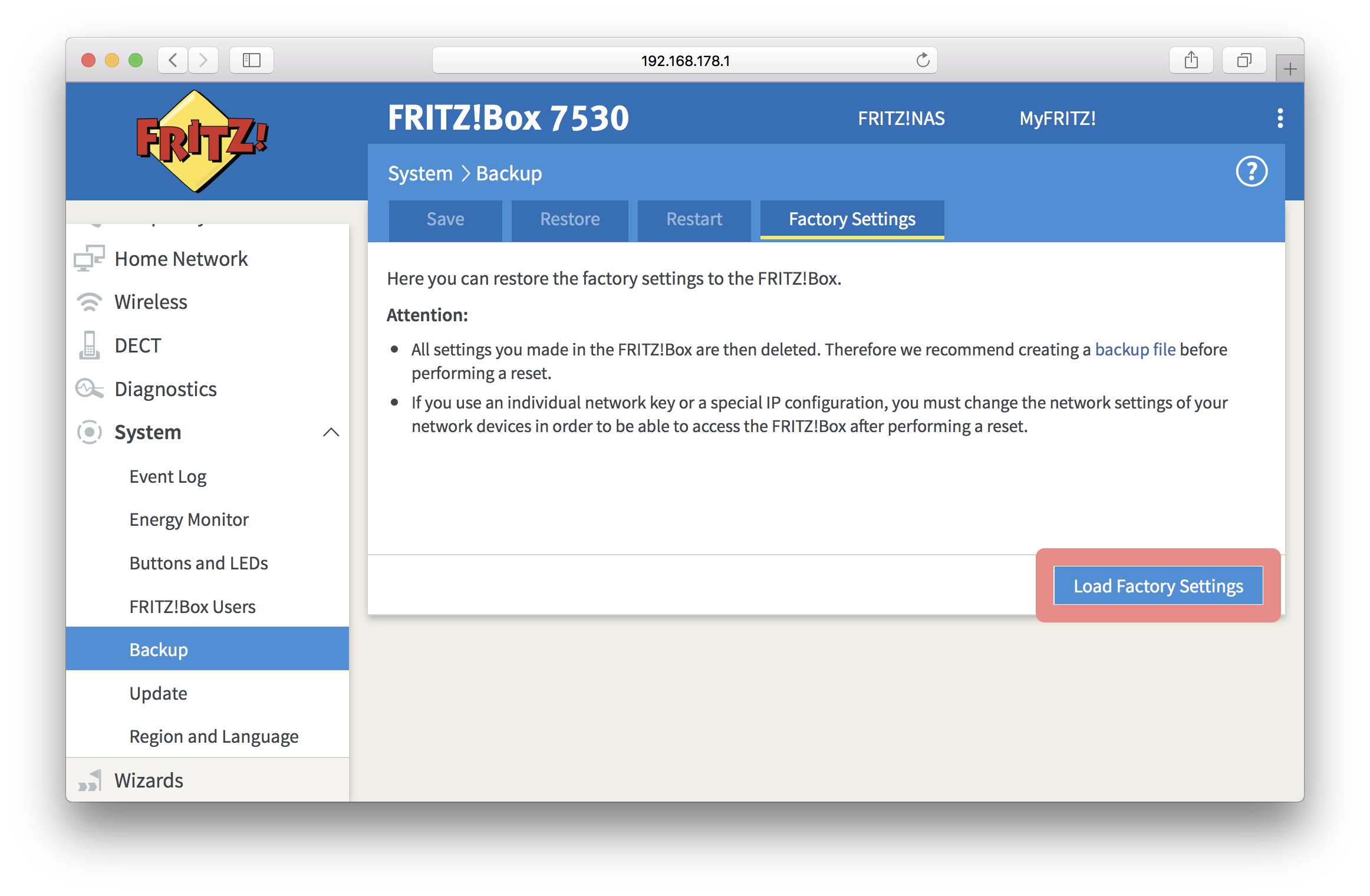 The FRITZ!Box will start loading factory settings, and its LEDs will start flashing.
Another way to restore to factory settings is to trigger a reset using an analog telephone. It may be useful if for some reason, you cannot login to the modem user interface.
Just connect a telephone to the port FON of your FRITZ!Box and dial #991*15901590*. If the code is accepted, all LEDs will start flashing.
As soon as the factory settings have finished loading, the WLAN LED will remain lit. Connect to the user interface, which should be reachable on http://fritz.box or http://192.168.178.1, to start setting up your FRITZ!Box.
Having difficulties configuring your device? Check out our guides on how to do so if you have a FRITZ!Box 7360, 7430, 7490 or 7530.