What is Fiber NT and where can I find it
Fiber NT (Fiber Network Termination, sometimes referred to as ONT—Optical Network Termination—or UNI) is a fiber to ethernet converter that is installed inside the building and is connected to the Fiber entry point. It translates light signals from the fiber optic line into electronic signals that your router can read. When your fiber connection is activated, the signal is to be delivered to one of four Gigabit Ethernet LAN ports on the back side of the device (don't worry, we always mention the correct LAN port to use in the order confirmation).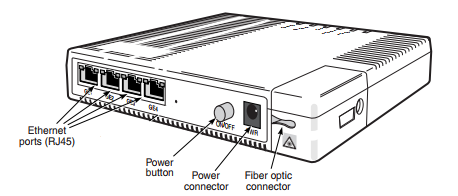 Where Fiber NT can be installed
In a single dwelling house one Fiber NT is installed, usually on the ground floor or in the basement.
In case of a multi-storey apartment building, there can be different scenarios, which depend on the type of the vertical cabling:
If a complete optical cabling is available from a building distribution frame inside a technical room to the different apartments, each Fiber NT is installed in the apartment,
If there is no optical cabling available, the fiber NTs for all living units are installed in the technical room of the building. In this case, an electrical cable (UTP type) should be used in order to mount the signal from Fiber NT to the apartment.
What if I live in an apartment building and I cannot find my Fiber NT
In the email you receive right after order activation, we specify the identification of your fiber connection: two references (UTAC and UNI), divided by slash.
The last number of the UNI indicates the Fiber NT port on which your service is activated (for instance, 1-1 means that the fiber connection is delivered on the 1st Gigabit Ethernet port of your Fiber NT).
UTAC, in its turn, is the identifier of the Fiber entry point, a box installed inside the building which is the termination point for the fiber going from the street. Every Fiber NT is connected to its own Fiber entry point by optical patch cord. In a multi-storey building you can find the Fiber entry point, to which your Fiber NT is connected, by UTAC—it should be written on a sticker on the front side of the box.
If you have difficulties finding the device or any question, contact us at 032 65 67 00, we'll be happy to help!
See also:
What LED indicators are on my Fiber NT
How do I configure my FRITZ!Box 7530 for use with a fiber connection